Splurge
Tuesday, June 28, 2011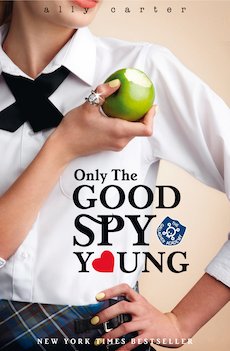 This week I have had a bit of a teen-fiction splurge, starting with Alan Gibbons' An Act of Love and finishing today with Ally Carter's Only the Good Spy Young. Call me fickle but I did enjoy Only the Good Spy Young a fraction more. I was in the sort of mood where I could quite easily get lost in a fictional boarding school for young spies.

Everyone has those moments, mine lasted for a few days, during which time I looked forward to the end of the day when I could sit back and stealthily sweep through the corridors of Carter's elite institution. It was everything I was looking for in a girly teenage novel. It had attitude, sass and a ton of girl power. Yup, I was hooked. To make it even better this is just one of a series of books by Ally Carter all set around the lives and loves of the Gallagher Girls. I like to approach teenage books like I would a blind date. If I don't expect much from it I can either be pleasantly surprised or I can walk away and not feel like I have burnt a long standing bridge.

I must say this book did surprise me and as I steadily became swept up in the storyline I became aware that I was genuinely coming to like Cammie and her friends. Definitely a series I will be revisiting and one I will be recommending to anyone who is looking for some effortlessly cool hair-flicking, butt-kicking action.