Children's Laureate Launch
Wednesday, April 06, 2011
Last Saturday I took a rather early train from London Paddington to the sunny if a tad windy city of Oxford for the Sunday Times Literary Festival. OK, so admittedly the Children's Laureate Launch was aimed at children and their dedicated parents but I figured I could subtly hand my ticket in and join the mass of Jacqueline Wilson, Anne Fine, Michael Rosen and Anthony Browne fans. To an extent I was right, once I was in, I climbed the stairs in the Sheldonian Theatre to sit above the guest panel in the upper circle. The awkwardness came at the start of the day when I had to queue with around 200 children clasping Tracey Beakers and Flower Babies ready to be let in. It wasn't even the sort of event where you could sidle up to a family and pretend to be part of their clan. As soon as I so much as took a step towards the next family in line, I either got a sympathetic smile or a protective arm around a younger child. I'm not sure why that happened, I don't think I look particularly threatening and at just over 5"1 I'm hardly likely to hoist a 9 year old over my shoulder and take a high jump over the 15 foot gates. Anyway after the rather embarrassing queue I was finally in and seated and starting to wish I had got a drink before I arrived. I figured that the organised talk by four of the most talented laureates would be a real insight into the workings of a children's writer and I think I was just curious to see what made them tick. Each of them were greeted with a huge round of applause and faced their eager audience with warm smiles. So folks, here is a quick round-up of what each of the four guest speakers said: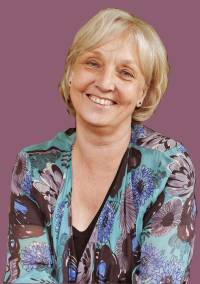 Writer of Madame Doubtfire, Flower Babies, The Jamie and Angus Stories and many, many others, Anne Fine spent her time as laureate campaigning against the age ranges set on books, claiming that the ability to read does not necessarily have a correlation to a child's age. She talked of how, like many of the other guest panellists, she was a child of Enid Blyton and learnt to read at an early age, exceeding the expectations of her primary school teachers. She raised the issue of difficult literature and suggested that if a book is hard to read, it is often the book that you will get the most out of. Apparently easy reading is not somewhere to be beached up. One thing I did find very promising from her talk was that she has found that her writing has not got better with time, she has just got better at spotting problems that are about to pounce on her - reckoning that people's best work is often the raw materials they produce early on in their career...now that does sound good!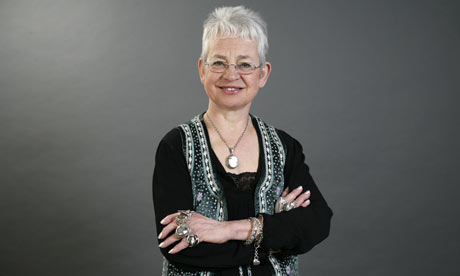 What a trooper! Poor Jacqueline Wilson had the most horrendous cold and had to stop numerous times to sip water in a vain attempt to stop her sudden bouts of coughing. Jacqueliune really held the children's attention as most of them had come to see their heroine in the flesh. She talked of her love for family stories and how as she grew up in a reasonably small family she enjoyed reading about characters with many siblings. Little Women, What Katy Did Next and Ballet Shoes were among her faves and they all came with high recommendations for the parents in the audience who were clearly scribbling down reading lists for their children. As laureate, Jacqueline backed a campaign to bring families together to read out loud to each other, something that I really benefited from as a child - I can't really imagine a house where this doesn't happen. I think it's so important to encourage children's imaginations and who can do the voice of the BFG better than your dad??
Michael Rosen was introduced as a performer and he really gave a
stonking
performance.Writer of
We're Going on a Bear Hunt
and
You're Thinking About Doughnuts,
he had everyone in stitches as he told us of his brother teaching him to read parrot fashion and how he would rather not meet the Queen thank you very much. He also explained in detail how he felt about the government and how he is baffled by their love of worksheets. One thing that stuck in my head from Michael's speech was this little nugget of information that seems so obvious that I'd never really thought about it. Having a house full of books is like having two university graduates live in the house. The amount of information available to the child sky rockets and their imagination and willingness to learn is mind boggling increased. But apparently this piece of gold from the University of Nevada wasn't 'worksheet friendly' enough for the government so Michael's laureate campaign was put on the back-burner.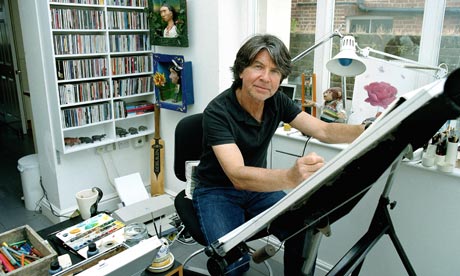 Illustrator and author Anthony Browne brought Willy the Wimp to life in fantastic drawings. Growing up reading comic books such as The Dandy and Beano, Anthony was fascinated by the power of pictures and the space between words and pictures. His campaign promotes the importance of picture books and the importance of allowing children to explore impossible worlds through picture books. Being pushed forward onto more grown-up books where their imaginations are left stranded as they fail to conjure up ice-cream streets and lollipop trees never sounds like a good idea to me.
So that's pretty much a summary of what was said, after the speeches there was a chance for questions, most of which were along the lines of 'Jacqueline Wilson what inspired you to write [enter title here] ?' And after the questions were answered and parents proudly smiled at their child's question it was time for the floor to move and the crowd surged forwards upon the four great Laureates for book signing. It was at this point that I sidled to the door and out into the lovely sunshine, hopping onto an open-top bus tour around Oxford.